Bending and Forming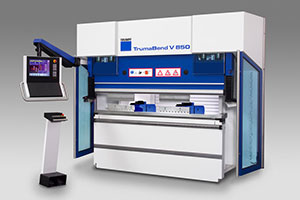 Equipped with a full range of technology and engineering capabilities, Hafendorfer Machine, Inc. can transform your design from concept to reality with our metal bending and metal forming services. Our facility contains the latest equipment enabling us to fabricate and perforate metal to the most exacting tolerances. From complex assemblies to simple brackets, we have the technology and expertise to complete any
bending or forming project
.
The 11 Axis TRUMPF TrumaBend V850 CNC Press Brake we can provide our customers' high-quality, precision forming of material up to 87" inches wide with 95 tons.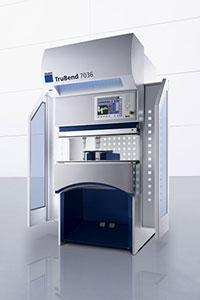 The TRUMPF TruBend 7036 CNC Electric Press Brake is extremely fast moving machine with 6-axis back gauging and high acceleration values that help optimize machine speed. This is achieved with lightweight carbon fiber elements in the back gauge fingers and a gearless electric drive for the beam. This machine's 40 tons and 40" inches of workspace allows us to be highly competitive with quick turnarounds on small formed parts.
Bending and Forming Processes
Metal Bending
Bending metal allows us to transform sheet metal into V, U or channel shapes, allowing us the ability to manufactured parts for a variety of industries. We are able to process material less than 6 inches wide and up to 10 ft. long.
Metal Forming
Forming is completely reshaping the metal without shaving, cutting, or removing material. Forming changes the physical shape of the material without changing the mass. Our metal forming provides a uniform look and consistent shape with a variety of materials.
Press Brake Process
Our state-of-the-art press brakes bend metal with a high degree of accuracy. We have the ability to control the position and angle of the back-top, to make perfect bends every time.
Punching Process
Punching is used to make a hole or an impression in the material. Our punch machine can handle simple shapes or more complex projects, and handles multiple stamps in one stage. This punch process is slightly less flexible than using a laser cutter, but it is faster for repetitive shapes.
Materials:
We have the ability to bend/form a variety of different material types and thicknesses:
Mild Steel
Stainless Steel
Aluminum
Galvanized
Galvanneal
Bending and Forming Machinery
Trumpf TrumaBend V850SX
This press brake from TRUMPF is one of their most popular hydraulic CNC press brakes. The V Series are known as the most flexible, efficient, and premier press brakes in the industry. The V85 features TRUMPF's unique die shifting feature along with an intelligent 6-axis back-gauge, and Automatically Controlled Bending.
Trumpf Electric TruBend 7036
The TruBend series from TRUMPF is the fastest in the world. This extremely fast and flexible machine features high acceleration and certified ergonomics to allow our expert craftsman to work quickly and efficiently to make complex and precise parts in any format.
Trumpf TruPunch 5000
The TruPunch 5000 is the market leader in productivity, process reliability, and flexibility. Through individual automation solutions, this process guarantees reliable and optimal output, even with diverse applications. Thanks to the innovative on-demand drive, the TruPunch 5000 punches up to 1600 strokes/min or marks up to 3000 strokes/min.
Trumpf TruBend 5230(S) CNC Press Brake
This new addition offers high productivity from programming and tool setup to the bending process. It offers us the ability to fabricate parts in any format, from the simplest to the most complex, with top quality.
Press Force: 353 TONS
13FT of bending length.
Optimal precision and angle accuracy
Thickness Control Bending (TCB) a function that compensates for variations in the sheet thickness.