Production Machining
Hafendorfer Machine, Inc. provides a wide range of precision and
production machining services
. Our machine shop delivers CNC high speed precision machining /milling on practically all grades mild carbon, stainless steel, brass, hard plastics, and more. Regardless of whether the project is a prototype, short run, or volume production we have the best equipment and expertise in contract manufacturing to complete the job! The CNC precision MAZAK 4 axis lathes and milling machines used in our high precision machine shop are highly capable of achieving close tolerances in large part metal job shop situations.
Production Machine Shop
Our machine shops are the best in the industry because of our state-of-the-art equipment, flexibility, and unmatched reputation for quality. Whether you need 1 part or 100,000 duplicates we can mill, drill, turn, face, thread, and bore in a single step.
Our other metal job shop capabilities include:
Turning from ¼" to 20" diameter up to 20" in length
Ability to bar feed up to 2" O.D.
Milling from 20" W x 48" L x 19" H
Rapid prototyping, shaft work, castings and bar work
Precision Metal Machining
From the metal job shop parts that make our cars run to medical equipment or rocket ships, we have the equipment to handle any metal job of any size in a variety of materials. Our precision machine shops for contract manufacturing including
welding
are the best in the industry.
Some of the most popular materials used include the following:
Copper: Copper is ideal for use in electronics, cell phones, and related devices. It is also widely used in architecture and construction because of its durability. While it is the third most commonly-used metal in the world, it is difficult to use because it is soft and malleable. Our engineers and technicians are highly skilled in working with copper to accurately machine this metal with upmost precision.


Plastics: We work with a variety of plastics including Delrin, Teflon, and other hardened plastics to create parts and pieces for a variety of industries. Our machines are capable to create nearly any part or component from a variety of plastics with unmatched precision.


Hardened rubber: Rubber machinery is used in a variety of industries from tires to medical equipment. We provide machinery solutions for both the future and the present to get you what you need on time and on point. Our equipment maintains a competitive edge by enhancing reliability and while maintaining industry safety standards.


Aluminum: Aluminum is one of the most diverse metals because it is lightweight and strong while being easily workable. Aluminum is also easy to recycle, and works well under both direct heat and extreme cold. We use the latest in technology and proven methods to provide concise manufacturing to any aluminum project.


Stainless Steel: The combination of strength and beautify makes stainless steel one of the most popular metals in the industry. It is used in a variety of products from cars to jewelry. As with any metal machinery, stainless steel requires high precision. We have over 20 years of experience with a variety of stainless steel grades and can produce any part or components to match your exact specifications.


Brass: Brass is an alloy metal of copper and zinc. It is typically stronger and harder than copper, but not as hard as steel. It is easy to form brass into a variety of shapes with the concise machinery at Hafendorfer Inc. From pipes and tubes to musical instruments and casings, our team and create exactly what you need with accuracy and consistency.
Precision Production Machines
MAZAK Horizontal Center - Nexus 4000 III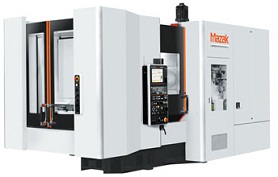 The Nexus 4000 III combines high performance spindle specifications with the latest generation Matrix Nexus 2 CNC to provide unsurpassed performance, productivity, accuracy and reliability. The internal motor provides four spindle types to allow users to match the spindle performance to their specific requirements to balance speed and power. Used with a variety of materials, the Nexus 4000 III is used for high-volume operations because of its speed and consistency.
Machine Size
| | |
| --- | --- |
| Width | 2,210 mm |
| Length | 4,622 mm |
Capacity
| | |
| --- | --- |
| Maximum workpiece diameter | 630 mm |
| Maximum workpiece height | 900 mm |
| X-axis travel (column right and left) | 560 mm |
| Y-axis travel (spindle up and down) | 640 mm |
| Z-axis travel (table back and forth) | 640 mm |
MAZAK Vertical Center - VCN510C
The VERTICAL CENTER NEXUS 510C-II Vertical Machining Center combines advanced technology, productivity and value for a wide variety of applications. The machine is built with more productivity-enhancing features than any other vertical in its class. Equipped with the MAZATROL Matrix Nexus CNC, this control provides conversational or EIA programming, giving the capability and productivity necessary for today's technology driven shops.
Longem 2080 Gap Bed Engine Lathe
Swings: 20" over bed 12" over cross slide 30" in gap
80" between centers
Inch/metric threading