Tube Laser Cutting Services Whether you are working out at the gym, plowing a field, or sitting on your couch, you are taking advantage of metal tubes and profiles. A tube laser cutting machine makes it easier to create a range of parts using the latest in
laser tube cutting
technology.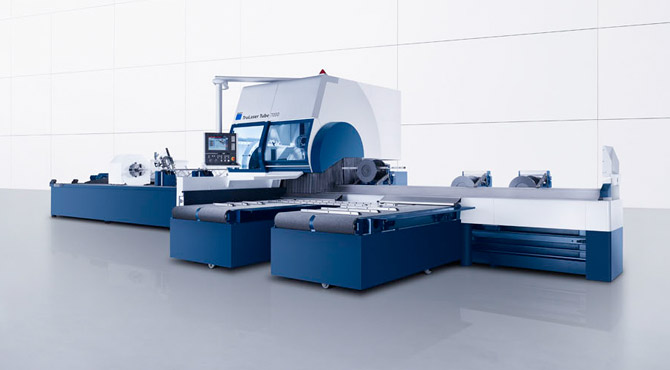 Hafendorfer Machine has been utilizing laser technology for over 20 years. The addition of the Trumpf Trulaser Tube 7000 allows us to better accommodate one-offs, prototypes and small batch runs. This entrance into CNC laser tube cutting also enables innovative design solutions that minimize downstream tasks such as de-burring, welding, and assembly.
Laser Tube Cutting
This new tube laser cutting machine can process tubes (rectangular, square, round or oval cross-section), pipe, angle iron, C-Channel, flat bar and some I-Beam profiles. It is ideal for cutting thin-or-thick walled tubes as well as those that incorporate complex contours and cutouts.
Tube Cutting Application
CNC laser tube cutting opens a world of new possibilities in laser cutting services. With quality bevel cuts up to 45 degrees, we can expand your range of parts, cut any type of contour and profiles with utmost precision. Almost any material or component of a mechanical part or load bearing structure can be produced using our tube laser cutting machine.
Greater design freedom
Superb functionality
Efficient fabrication methods
Perfectly aligned miter cuts
Visually appealing, top-quality products
High-quality, mass-produced components
Combine the advantages of sheet metal and tube constructions
Laser Tube Cutting Benefits
The advancements in laser cutting allow you to create new designs that are not possible to create using conventional methods.
Efficiency: Additional efficiency features make laser cutting more cost effective and reliable than other methods. The use of laser cutting reduces the number of downstream manufacturing steps by simplifying welding setup and operations. Positioning aids facilitate component assembly to simplify the process of assembly and prevent errors.
Money and Time: Research has shown laser tube cutting shaves off up to 49 percent of the time required by traditional methods and decreases expenses by up to 30 percent in comparison to a conventionally welded part. How is this possible? Simple. Tube laser cutting uses a single operation. The unmatched quality of tube laser cutting provides cut edges that eliminates rework and reduces process steps. One step creates perforations and complex contours, desired lengths, and eliminates steps such as storage, parts handling and tool changes.
Design: With tube laser cutting, the possibilities are only limited to your designs. With traditional methods, many designs are too expensive or impractical to create as mass volume. Tube laser cutting technology simplifies production and reduces costs in order to open the options of manufacturing.
Materials: Tubing is available in a variety of materials, shapes and grades, but at HMI we can accommodate nearly any type of tubing available including:
| | |
| --- | --- |
| •Square Tube | •Structural Pipe |
| •Rectangular Tube | •C-Channel |
| •Round Tube | •Angle Iron |
| •Oval Tube | •Flat Bar |
Thickness:
| | |
| --- | --- |
| •0.3 in. Mild Steel | •10 in. Max outer circle diameter |
| •0.25 in. Stainless Steel | •30 ft. Max length of raw material |
| •0.2 in. Aluminum | •21 ft. Max length of finished part |
Process material with the following specifications:
Rectangular tube (Outer circle diam. < 8.07", < 10")
Square tube (Min = 0.600 x 0.600", Max= 5.905" x 5.905", Max = 7" x 7")
Round tube (Dmin= 0.600", Dmax= 8.07", Dmax=10")
Oval tube (Outer circle diam. < 8.07", < 10")
Angle iron (4" H x 8"W)
Flat bar (1.2" – 5.5" W, up to .500" thick)
C-Channel (4" H x 8"W)
Tube Laser Cutting Machine
Trumpf TruLaser Tube 7000
This is our brand new flagship TruLaser Tube 7000. It was presented at the Tube Trade Fair, held in Düsseldorf. This high-end machine is one-of-a-kind with all the bells and whistles. Self-centering clamping jaws, FocusLine regulation, and state of the art software combine to produce consistent high quality for every batch.
An automatic clamping force adjuster for increased process reliability
Permanent monitoring of the clamping jaw's position
An automated push-through feeder ensures long contours are cut without collisions
Flexible unloading station to sort finished components
Tube storage to hold up to four tons of raw materials loaded automatically.
A swivel-mounted laser cutting head to allow accurate chamfering and diagonal cutting with precise quality at angles of up to 45 degrees.
Fully automatic machine adjustment stepped rollers provide both support and lateral guidance.
This flexible high-end machine allows processing of a wide range of parts and gives access to new applications in the field of laser tube-cutting. Without any productivity loss, this machine is capable processing material up to 30 ft. long with a cutting range up to 250 mm (10 in.) in diameter, with wall thicknesses of up to 8 mm (0.3 in.).
Tube Laser Cutting Automation
The LoadMaster Tube enables automated production. The tube magazine can accommodate up to four metric tons of raw material. Before feeding the material into the processing unit, the loading system performs a plausibility check in which the machine software compares the geometry of the unprocessed tubes with the previously entered data, thus avoiding downtime due to operating errors. The LoadMaster Tube gripper system automatically adapts to the measured length of the tube. Individual tubes can be loaded manually, even if you have opted to install an automatic loading system. The transport tracks can be easily swiveled into place to feed single tubes into the machine.
TRUMPF TruLaser Tube 7000
The latest technology in
tube laser cutting
come from the TruLaser Tube 7000 from TRUMPF. This new machine increases the possibilities of production and can accommodate up to four metric tons of raw material. The TruLaser Tube 7000 machine is capable of cutting tubes and profiles measuring up to 250 mm in diameter with wall thicknesses of up to 8 mm and quality bevel cuts up to 45 degrees.