Laser Cutting Services
If you can design it, we can cut it. We work across all industries. Our custom laser cutting services, our TRUMPF TruLaser 3040 and our TRUMPF TruLaser 3030, surpasses the industry standard for cutting the most intricate designs in an assortment of metals. Whether you have one specialized project, or large volume production our laser sheet metal cutting services provides perfection without compromise.
2D Laser Cutting
Our custom laser cutting process is highly accurate and yields excellent cut quality. Our 2D laser cutting has several advantages over both mechanical cutting and plasma cutting. Precision laser cutting provides easier holding, increased precision, and a reduced chance of warping the material because the laser system holds such a small heat-zone. It is also more accurate, and uses less energy than plasma cutting. For some materials, it is nearly impossible to cut without the use of custom laser cutting services with the latest in precision laser cutting technology.
CNC Laser Cutting
Our Computerized Numerical Control (CNC) laser cutting machines are operated with exact programmed commands to create a product specific to your exact needs. Our precise CNC laser cutting machines use either CO2 or Nitrogen to cut, bore, and engrave a variety of materials. We use only the latest technology and proven methods for CNC production for our entire custom laser cutting services.
Laser Cutting Machines
Trumpf TruLaser 3030
This is the latest generation of the reliable TruLaser family. It combines innovative technology with a new higher laser power all rolled into a brand new design. With one cutting head and integrated pallet changer, this new concept delivers a simplified operation that is optimized for perfection.
Material/Cutting Thickness
| | |
| --- | --- |
| Mild Steel | 1.00" (25mm) |
| Stainless Steel | 0.75" (20mm) |
| Aluminum | 0.50" (12mm) |
Trumpf TruLaser 3040 Fiber (6 KW)
Our machine is able to process parts from thick to thin material with extremely good edge quality and higher throughput speeds. This Fiber laser allows us to process material thickness up to one inch on mild steel, stainless steel, and aluminum. The system is able to store up to 200,000 lbs. of Material at a time, & has the ability to load raw Material as well as removing & storing finished Parts.
Bed Capacity- 2,032 x 4,064 mm (80 X 160 in.)
Material/Cutting Thickness
| | |
| --- | --- |
| Carbon & Stainless Steel | 1" (25.4mm) |
| Aluminum | 1" (25.4mm) |
| Brass | .39" (9.906mm) |
| Copper | .39" (9.906mm) |
Trumpf TruLaser Tube 7000
The latest technology in
tube laser cutting
come from the TruLaser Tube 7000 from TRUMPF. This new machine increases the possibilities of production and can accommodate up to four metric tons of raw material. The TruLaser Tube 7000 machine is capable of cutting tubes and profiles measuring up to 250 mm in diameter with wall thicknesses of up to 8 mm and quality bevel cuts up to 45 degrees.
---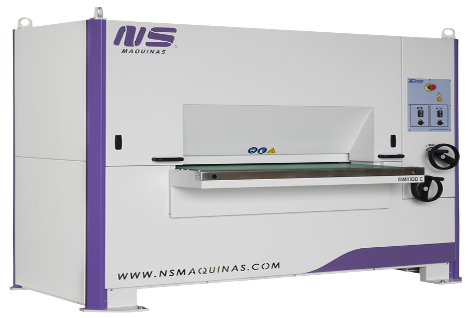 The
NS MAQUINAS DM1100 C
offers Hafendorfer Machine the ability to perform deburring and edge rounding on laser cut parts a in a fully automated operation.
Edge rounding up to 1100mm
Ideal for edge rounding of light burrs up to 1100mm working width.
Performs edge rounding and removes sharp edges on both external and internal contours of stainless steel, steel or aluminum parts either cut in laser, shear or punching machine.
This machine works metal parts of different dimensions including products as small as 50x50mm.
DM1100 C – Metal Deburring Machine has a station with double cross belts for the metal deburring and edge rounding, leaving clean, soft and burr-free edges on the complete parts.
Plastic Protection Deburring