Metal Fabrication
Hafendorfer Machine, Inc. is the only total source for all
sheet metal fabrication services
. We are an industry leader in fabrication companies offering a full range of capabilities including stamping fabrication, precision metal fabricators, and housing.
Our Machine Shop
An expert fabrication shop creates expert products. We use only the best equipment and experience inside our shop to provide you the best of both worlds. Our job shop employees over 50 cross trained employees, a staff of engineers and we are setup to run 24 hours a day, 5 days a week. We live in a "need it yesterday" environment where we use innovation and skill to get the job done while saving you time and money.
Metal Fabrication Services
Custom Metal Fabrication
From simple to ornate, we offer some of the most precise and cost effective fabrication services in the industry. By using the most advanced technology combined with over 20 years of expertise, we are uniquely equipped to meet your most challenging projects. We have the tools and experience to handle any fabrication services from start to finish with a variety of materials. As one of the leading custom metal fabricator in the country, we service a wide range of clients and industries. Our expanding creativity and unlimited capabilities are only the beginning.
Precision Metal Fabricators
Each of our fabrication services is completely customizable to your needs. We use state-of-the-art equipment, automated processes, and innovative technology to complete your job on time, on budget, and exceed expectation. Our team works individually with each client to ensure we provide any metal fabrication services, from precise CNC machining to forming,
bending
, and more with exceptional results and top-notch customer service.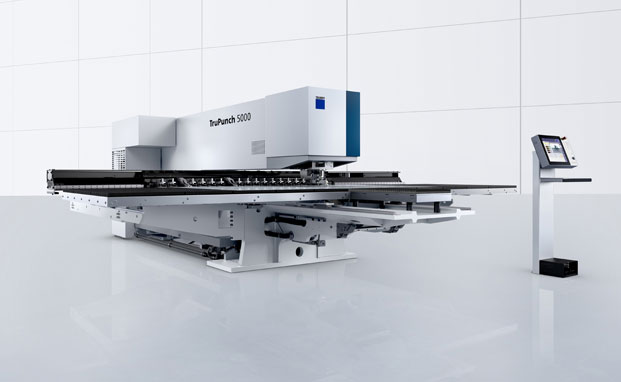 Turret Punch Press Services
With the help of our extensive tooling library and state-of-the-art equipment including our TRUMPF TruPunch 5000 we can handle just about any sheet metal fabricating project. The TruPunch 5000 is the market leader in productivity, process reliability, and flexibility. It offers punching, forming and de-burring in one machine.
Fabrication Materials
Part of our expert knowledge comes from an understanding of the different materials used in our custom fabrication shop. Understanding the differences in metal can make a big difference in your bottom line.
Ferrous Materials: This class of metals offer formability, simple welds, and low-cost.
Steel: High corrosion resistance and longevity. Mostly used because of its durability and appearance.
Delrin: This is a manmade thermoplastic used for its high stiffness, low friction, and excellent stability.
Hardened rubber or plastic: High malleability and cost-effectiveness make these materials versatile, durable, and cost-effective.
Non-Ferrous Materials:
More diversity of materials, resistant to corrosion, and many have a self-healing layer.
Aluminum: Low density, good electrical conductivity, nonmagnetic, malleable, easy to work with.
Copper: A pure metal with good thermal and electrical conductivity.
Brass: Harder than other materials, but still machines well in casts and forms. Good electrical and acoustic properties.
Lead: This pure metal is the heaviest option but has good corrosion resistance.
Nickel: Available as a pure metal or an alloy, good for high temperatures and mechanical performance.
Titanium: Low density, high melting point, and excellent corrosion resistance.
Fabrication Shop Machinery
Trumpf Electric Trubend 7036
The Trubend series from TRUMPF is the fastest in the world. This extremely fast and flexible machine features high acceleration and certified ergonomics to allow our expert craftsman to work quickly and efficiently to make complex and precise parts in any format.
Trumpf Trupunch 5000
The TruPunch 5000 is the market leader in productivity, process reliability, and flexibility. Through individual automation solutions, this process guarantees reliable and optimal output, even with diverse applications. Thanks to the innovative on-demand drive, the TruPunch 5000 punches up to 1600 strokes/min or marks up to 3000 strokes/min.
Trumpf Trumabend V850SX
This press brake from TRUMPF is one of their most popular hydraulic CNC press brakes. The V Series are known as the most flexible, efficient, and premier press brakes in the industry. The V85 features TRUMPF's unique die shifting feature along with an intelligent 6-axis back-gauge, and Automatically Controlled Bending.